Hellvape brand is well known as an innovative atomizer company which has produced many superb atomizers, like Dead Rabbit series. Hellvape has extensive experience in
the
DIY market
, and
would like to cooperate with every vape enthusiast, like Youtubers, Instagramers,
r
eviewers, shop owners, even experienced end-users.
Hellvape is always committed to a deep understanding of each market, in order to create the local products for the local people and bring the best vaping experience for them. In Germany, RDTA is very popular, Hellvape spent a lot of time to know German market well, and find the chance to bring the suitable products for German vapers. Finally, we are honored to have a collaboration with FIVE team from Germany to bring a classical RDTA for German vapers. As for FIVE team, there are not only influencers in the team, but also shop owners and end users, they all are experienced vapers, and know German market well, we hope and believe there will be more and more projects out from Hellvape & Five team.


After 12 months of hard working, research and development, a top coiler RDTA by Hellvape & Five Team finally came out. Helheim S is a top coiler RDTA which comes with steel wires to make it as an classical German style RDTA.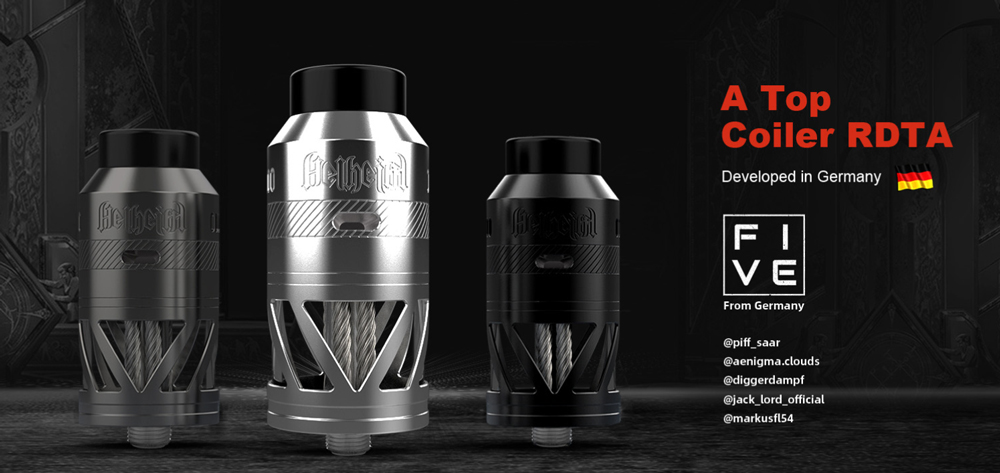 Helheim S RDTA uses 7*7 3.0mm Steel Wires for transferring e-juice from the bottom of the tank to the cotton without any dry-hit nor spit-back. Its material is from 316 stainless steel which has great resistance to any kind of chemical. It offers you the durability of this steel wire.


Helheim S RDTA has dual honeycomb airflow system to brings various flavor experience and huge cloud with smooth draw. Just adjust side airflow, bottom airflow or both as your vaping need. You can get a huge of flavor you cant imagine before. It also adopts reduced chamber technology, the vapor is compressed in the chamber before going to the mouth. As we all have known, reduced chamber can help to get dense flavor and cloud.
Large and open space deck is designed for easier coil building. You can choose to use to install both clockwise or counterclockwise single coil with no problems at all on this Helheim S RDTA.


For your daily vaping needs, it has 5ml e-juice capacity and with 2 big filling ports to help refilling the tank much easier.
Helheim S RDTA comes with 5 variant colours : SS, Gold, Blue, GunMetal, and Matte Full Black.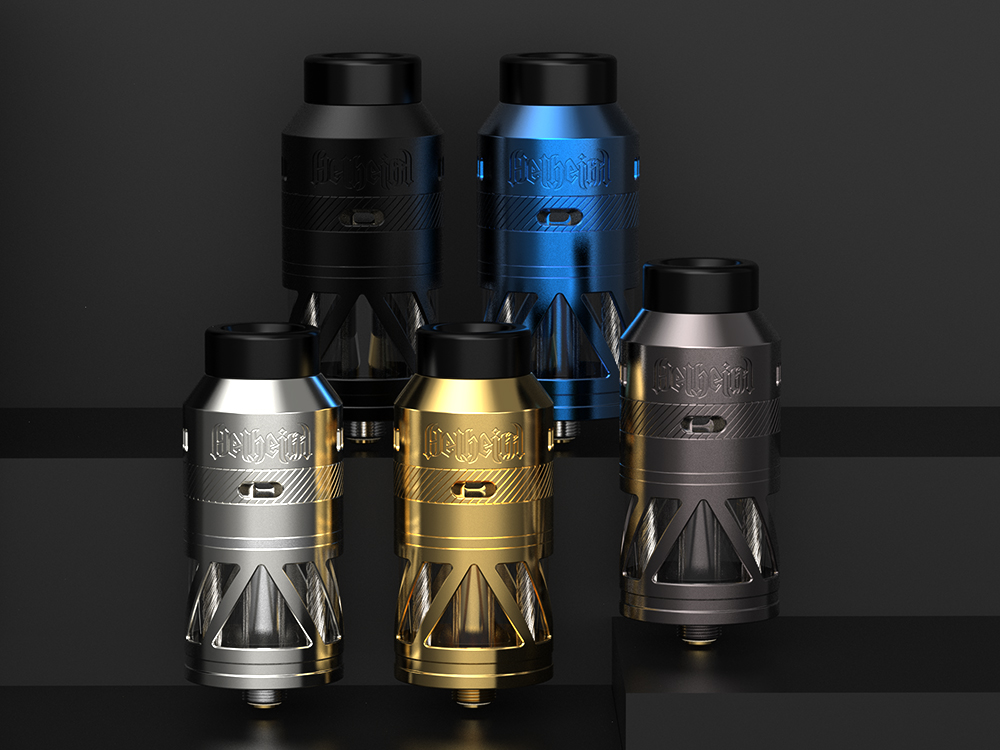 Here is a video for your watching: